Introduction
Forum Sentry administrators may have questions about which packages to download and use to upgrade their Sentry instance. This article applies to all ForumOS variants of Sentry, which include:
Hardware Appliances
Virtual Appliances (OVA)
Amazon Web Services Machine Image (AWS AMI)
Microsoft Azure VM
This article does not apply to the Forum Sentry software packages (Windows and Linux).
Forum Sentry runs within the secure ForumOS operating system. Upgrades to the ForumOS and to Forum Sentry are done the same way at the same time - via upgrade packages provided by Forum Systems.
For instructions on upgrading Forum Sentry see: Upgrading Forum Sentry
With the Sentry Virtual Appliances (ForumOS variants) it may not be possible to upgrade directly from v8.x to v9.x. Instead, it may be necessary to migrate to a new VM or AMI. More information on this topic is below.
For the download links please contact Forum Systems Support or open a Help Desk Ticket.

Forum Sentry Hardware Upgrade Packages
When upgrading hardware appliances, download the upgrade packages for the model appliance you are upgrading (e.g. 456X or 556X).

The hardware model can be found on the General Info page of the WebAdmin interface or in the ForumOS CLI.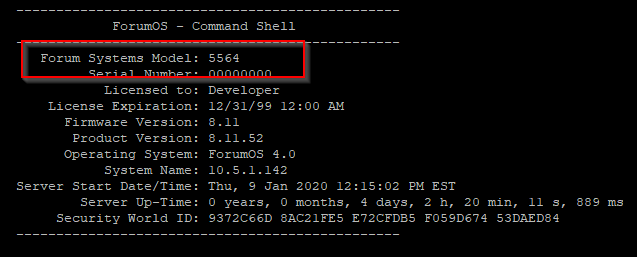 Forum Sentry Virtual ForumOS Packages
Prior to upgrading virtual ForumOS instances (virtual appliance, AMI, AzureVM) please check the ForumOS version. Note that it is only possible to do an in-place upgrade from Sentry v8.x to v9.1 if the ForumOS version is 4.0 or greater. If the ForumOS version is 3.x, it will be necessary to start with a new OVA or AMI or VM and then migrate your configuration. Contact Forum Support for more information on this process.
When upgrading from v8.x to v9.1, if your existing ForumOS instances is already at v4.x, you can apply the Sentry upgrade packages to the existing instance.
When upgrading from v8.x to v8.y, you'll use either the 556x or 456x packages.
When downloading upgrade packages for your virtual ForumOS Sentry instances, be sure to select the correct package for your ForumOS version.
The ForumOS v4.X and later require the 556X packages.
The ForumOS v3.X and earlier require the 456X packages.
You can verify the ForumOS version in the ForumOS CLI (access via SSH).
556X Based

456X Based